Nieuws uit groep 3a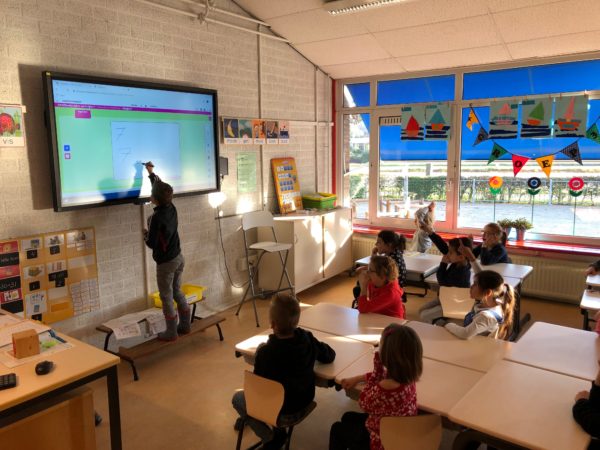 Wat gaat het hard in groep 3! We oefenen veel met lezen, rekenen en schrijven en inmiddels lezen we al echte zinnen en steeds langere woorden. Er worden al echte boekjes gelezen en we genieten van de verhaaltjes die we samen oefenen en lezen. In ons werkboekje schrijven we sinds kort woordjes. Dan doen we met de letters die we geleerd hebben, dus met prachtige schrijfletters. Het is nog wel even oefenen, maar dat mag natuurlijk! 
Ondertussen oefenen we ook met het schrijven van de cijfers. Tijdens de lessen mogen de kinderen ook zelf op het bord proberen te schrijven. Dat is geen gemakkelijke klus! Maar het is wel ontzettend leuk natuurlijk! 
Groep 3 volgt ook de IPC lessen. IPC houdt in dat er gewerkt wordt met thema's. De thema's omvatten de vakken geschiedenis, aardrijkskunde, natuur, techniek en beeldende vorming.  
Onlangs hadden we het thema 'Spark'. We werkten rondom de kunstwerken die gemaakt zijn door Ruud Kuijer. Deze kunstwerken staan langs het Amsterdan-Rijnkanaal. Tijdens deze IPC lessen leerden we alles over sluizen, rivieren en kanalen. We zijn op excursie geweest bij de sluizen en hebben in het park zelf 'kanalen' gegraven. Wat was het leuk! En door deze buitenactiviteiten leren we heel veel!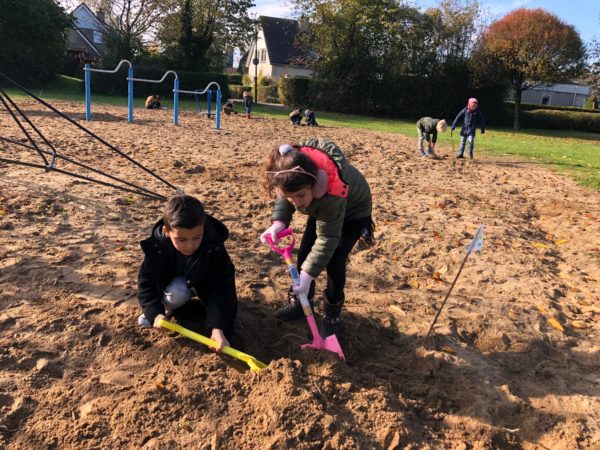 ---
---
Speaking and Rhythm Contest
Donderdag 26 september is de jaarlijkse "Speaking and Rhythm Contest" gehouden. Dit is een activiteit waarbij kinderen een voordracht houden in het Engels. Het is één van de activiteiten die we inzetten op de spreekvaardigheid te bevorderen en te laten horen.
In de onderbouw is de "Rhythm Contest" gehouden. Leerlingen van groep 1 tot en met 4 droegen in het Engels een versje, verhaaltje of liedje voor. Het was een verrassing hoe vrij de jongste deelnemers een liedje of versje op het podium deden. De jury was vol lof.
In de bovenbouw doen we de "Speaking Contest". Leerlingen van groep 5 t/m 8 droegen in het Engels een mini spreekbeurt voor over een zelfgekozen onderwerp.  Dit hadden zij thuis voorbereid. We zijn trots op de deelnemers en de jury die zich al zo goed in het Engels kunnen uitdrukken. 
Dit is groep 3a!
Deze groep bestaat uit 28 kinderen en 2 juffen. Juf Esther op maandag en dinsdag en juf Jacomijn op woensdag, donderdag en vrijdag. Ook is er een onderwijsassistent in opleiding in onze klas. Zij heet juf Myrthe.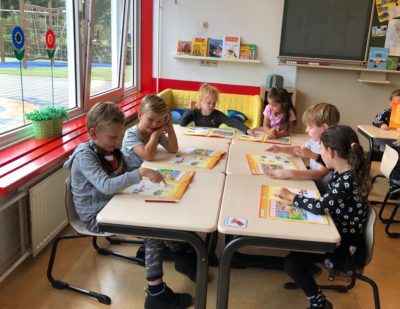 Voor groep 3 is het een belangrijk jaar als het gaat om het leren lezen.
Wij leren lezen met onze nieuwe leesmethode 'Veilig
Leren Lezen, de Kim versie'. Wij leren de letters door te luisteren, voelen, kijken, schrijven en ordenen. Daarnaast leren wij de leesletter ook gelijk schrijven in schrijfletters en leren wij ook de woorden gelijk goed te spellen. In onze mooie leeshoek zijn we al boekjes aan het 'lezen' en ontdekken we prachtige verhalen en platen die bij spannende avonturen horen.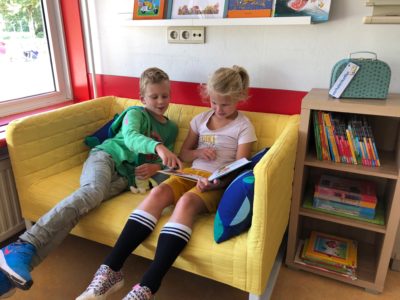 Ook rekenen de kinderen iedere dag. We leren bij rekenen de begrippen
(meer, minder, evenveel etc.) daarnaast splitsen, optellen en aftrekken tot 20. Later in het jaar komt ook de getallenlijn tot 100 naar voren. Waar woont bijvoorbeeld 65 op de getallenlijn?
Ook leren de kinderen klokkijken, verliefde getallen (samen 10) tweelinggetallen ( 3+3, 4+4).  
Naast lezen, rekenen en schrijven doen we ook hebben we ook veel andere activiteiten. We spelen, tekenen, knutselen en spelen veel spelletjes. Zo knutselen we over de nieuwe woordjes die we hebben geleerd. Deze vissen zijn hier een prachtig voorbeeld van.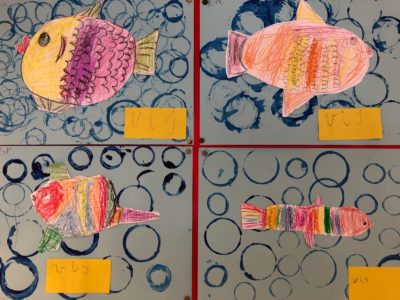 Muziek is ook een vak waar we veel plezier aan beleven! Wisten jullie dat we ook veel liedjes in het Engels zingen? Zo komt Engels en muziek samen. Dubbel zoveel plezier! 
We gaan er een leuk, leerzaam jaar van maken.
Fantastisch om straks te horen dat de kinderen na de kerst echte boeken kunnen lezen!