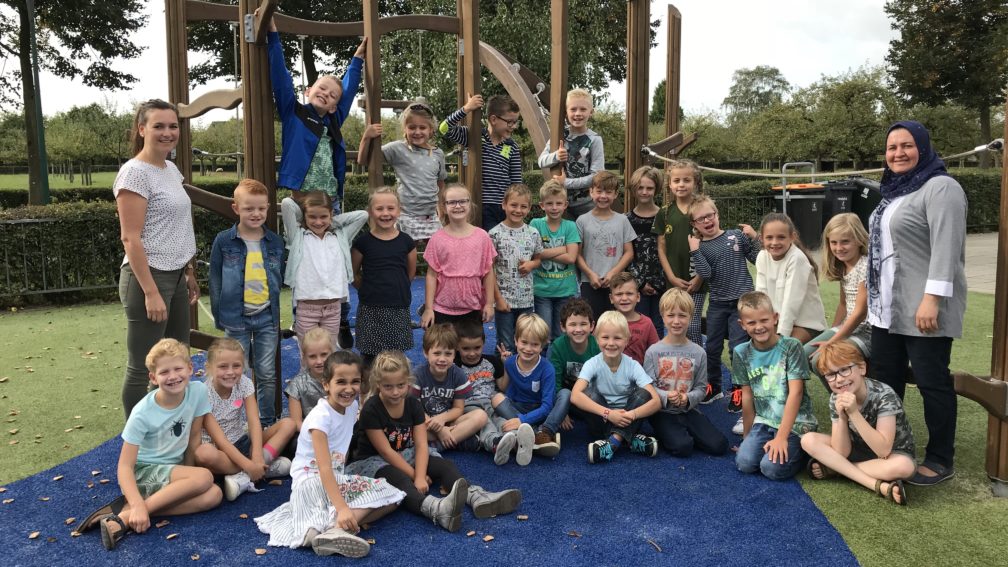 Nieuws uit groep 4a
Laatst hebben we met groep 4 een bezoek gebracht aan het Wijkse Vikingschip. 
Momenteel werken we met ons IPC thema over 'tijddetectives' en wat is er dan mooier dan in je eigen stad op zoek te gaan naar sporen van vroeger? In de klas hadden we er al over gesproken en alle kinderen waren reuze nieuwsgierig naar het schip. Hoe zou het eruit zien, hoe wordt het gemaakt?  
Groep 4 werd hartelijk ontvangen door Kees, projectleider van de bouw van het Vikingschip. 
Na een mooie powerpoint presentatie, waarbij de kinderen veel leerden over de Vikingen, over het Dorestad van vroeger én over archeologie, mochten de leerlingen bij het schip in wording gaan kijken.
De groep was flink onder de indruk van het schip, dat wordt nagebouwd naar aanleiding van een vondst in Denemarken. Allen zijn ze benieuwd naar het eindresultaat.
In de klas hebben we er een verslag over geschreven en dit aan elkaar voorgelezen. Tijdens de creatieve les gingen we het Vikingschip tekenen. Op de manier hoe wij dachten hoe het schip er over een jaar uit zal zien, dus als het project klaar is. 
Het was een leerzame en leuke ochtend!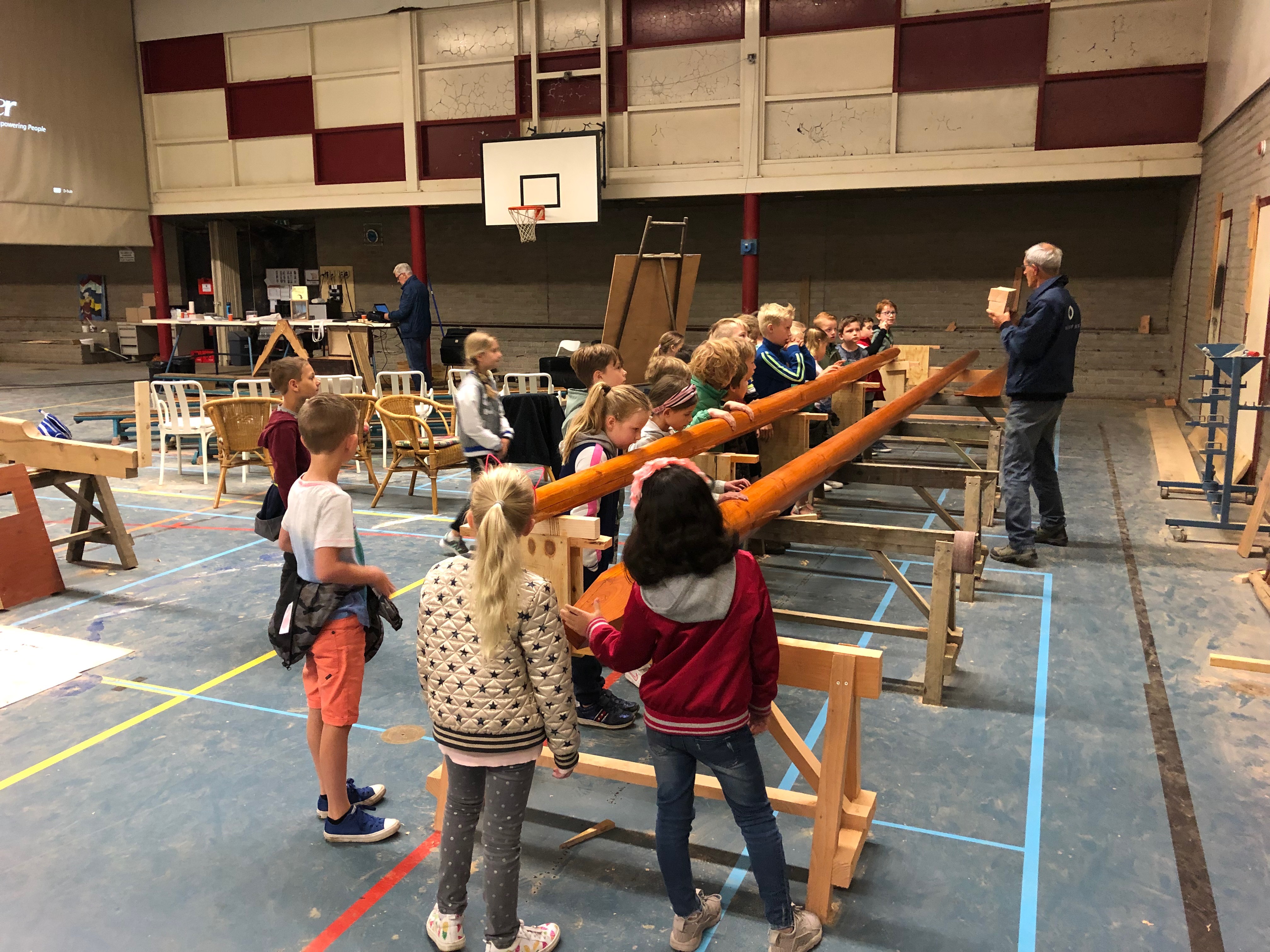 IPC
Groep 4a heeft de afgelopen tijd hard gewerkt met verschillende IPC thema's.
Het laatste thema 'De verhalen die mensen vertellen'  was wel een heel bijzonder thema!
We leerden veel over mythes en legendes en over sprookjes en fabels. We hebben geleerd hoe fabels en sprookjes ontstaan en dat er over de hele wereld veel verschillende verhalen worden verteld, maar ook veel dezelfde.
We leerden ook veel over de Grieken en Romeinen en de oude Egyptenaren en Vikingen.
Tijdens de lessen hebben we veel verschillende vaardigheden hebben geoefend.  Ze moesten we onderzoeken, opzoeken, samenwerken, luisteren naar elkaar (en dat een ander een andere mening kan hebben en dat te accepteren) en presenteren.
We hebben ook veel creatieve lessen gehad. Zo hebben we onze eigen Griekse vaas gemaakt. Dat hebben we gedaan door middel van een bijzondere techniek; met vette krijt het vlak inkleuren en daarna verven en krassen. De kinderen vonden dit geweldig!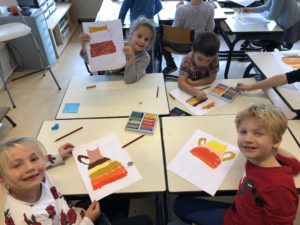 En net als in een echt museum hebben we een bordje gemaakt met daarop de naam van de kunstenaar en de naam van het object, de vaas dus.
Het waren weer hele leuke lessen waar we met z'n allen veel van hebben geleerd.
Bloembollen poten
Op uitnodiging van de gemeente Wijk bij Duurstede, gingen we onder leiding van Ruud Waltman bloembollen poten.
Eerst kregen we les in hoe het nou precies in elkaar zit, zo'n bloembol. Tijdens een uitgebreide uitleg van meester Ruud leerden we ook bijvoorbeeld hoe de bol groeit en hoe je hem moet poten.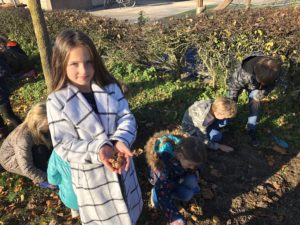 Daarna gingen we met alle groepen naar buiten. Rondom de school hebben de kinderen met veel enthousiasme talloze bloembollen gepoot. Het wordt rondom de school vast een prachtige bloemenzee als het straks voorjaar is. We kijken er nu al naar uit!
De tafels
Ook zijn we hard aan het oefenen met de tafels. We zeggen de tafels hardop, we maken veel oefeningen, spelen spelletjes, maar we 'joggen' de tafels ook!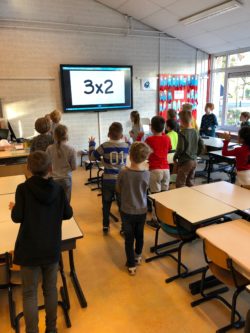 De kinderen gaan naast hun tafel staan, joggen en zeggen de tafels en het antwoord (!) hardop. Ondertussen komen ze allerlei 'obstakels' tegen, zoals een brug, een wervelwind, een gevaarlijke beer of een kikker. Hierbij moeten ze passende bewegingen doen. Zo bewegen we en ondertussen oefenen we flink! Dat is pas leuk leren!

Leuk dat jullie een kijkje komen nemen op de groepspagina van groep 4A!
Groep 4 A is een gezellige groep met 18 jongens en 12 meisjes. Juf Esther werkt op maandag en dinsdag en juf Jacomijn werkt op woensdag, donderdag en vrijdag. Op donderdag en vrijdag hebben wij een stagiaire, dat is juf Hayat.
De kinderen hebben al veel geleerd vorig jaar. Groep 3 stond in het teken van de basisbeginselen van het lezen en schrijven. In groep 4 gaan wij hier mee verder. We gaan moeilijker woorden leren lezen en spellen, en leren onder andere de hoofdletters schrijven.
Begrijpend lezen wordt steeds belangrijker en is voor groep 4 nieuw. Daarnaast besteden we ook elke dag aandacht aan taal, spelling en woordenschat met behulp van de methode 'Taal actief'.
Voor rekenen gebruiken we de methode 'Wereld in Getallen'. Groep 4 leert optellen en aftrekken tot en met 100 en gaat druk aan de slag met het leren van de tafels, heel handig om snel te kunnen rekenen!
Naast hard werken en leren doen we natuurlijk nog veel meer in de klas. Zelfstandigheid wordt steeds belangrijker en we leren ook steeds meer op tempo te werken.
Engels leren we via de methode 'Our  Discovery Island', maar ook met Engelse liedjes en spelletjes.
Natuur en muziek komen ook aan de orde. Dit laatste doen we graag met leuke bewegingen, dans en muziekinstrumenten. Plezier maken vinden we belangrijk!
Groep 4A heeft op dinsdag en vrijdag gymnastiek en we knutselen en tekenen elke week. Vaak gecombineerd met de IPC lessen.
We houden ook veel van bewegen! We lopen de Daily Mile, maar we gaan ook regelmatig naar buiten om taal, rekenen of spelling te oefenen! Bewegen én leren, dat is pas leuk en gezond!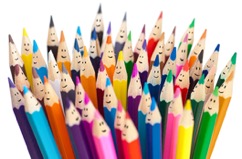 We gaan er dit jaar een leuk jaar van maken met z'n allen! Natuurlijk zijn jullie altijd welkom om een kijkje te komen nemen in de klas.
Juf Esther en juf Jacomijn