Met een voorsprong de wereld in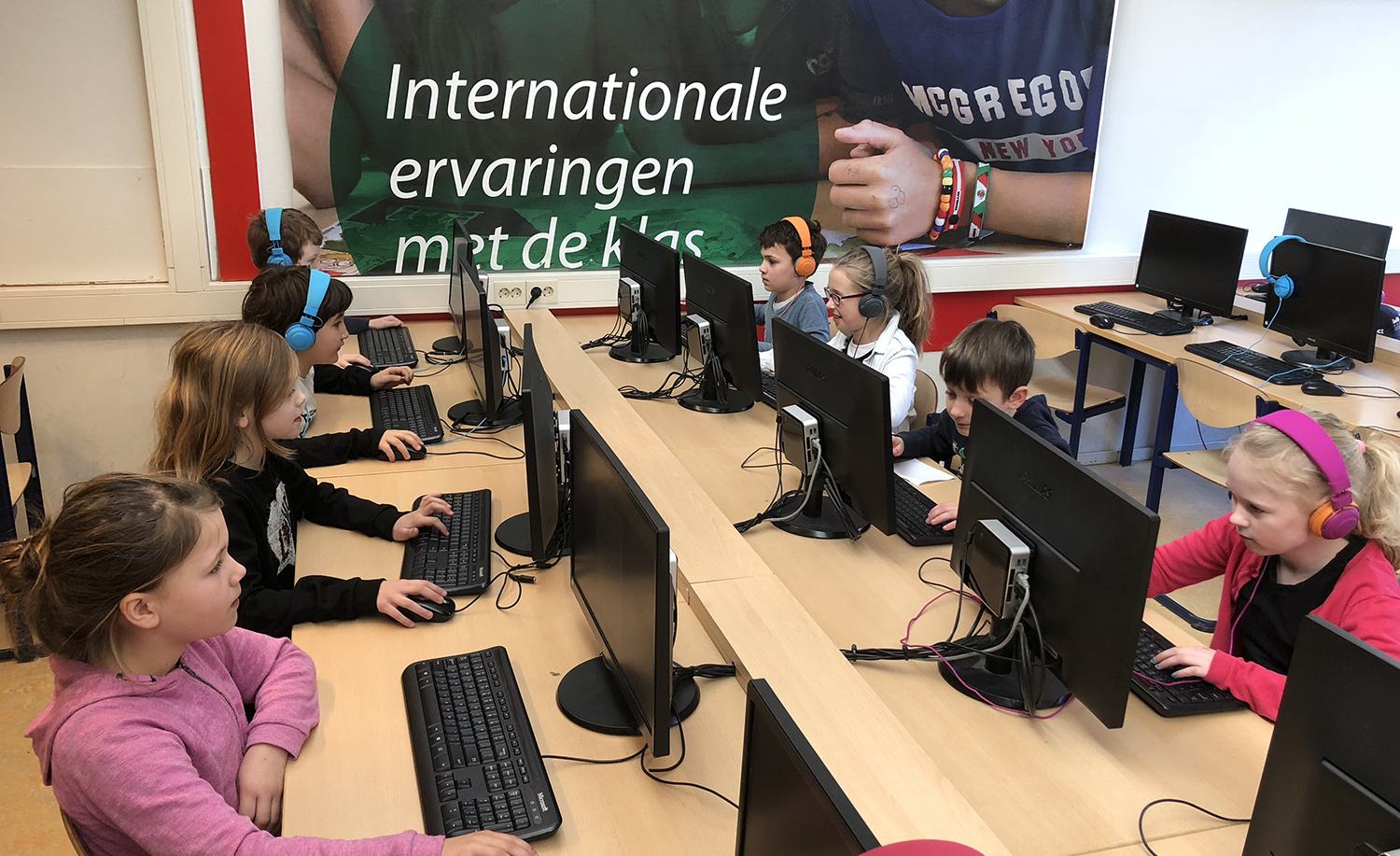 In de wereld van vandaag is een goede beheersing van het Engels een absolute noodzaak. Met het leren van deze wereldtaal kun je niet vroeg genoeg beginnen, vinden wij. Ook uit wetenschappelijk onderzoek blijkt dat het op jonge leeftijd aanleren van meer talen vruchten afwerpt. In overleg kunnen kinderen ook lessen Spaans volgen.
Van kleuter tot bijna-brugger
Op obs De Horn is het Engels al jarenlang in het lesprogramma geïntegreerd. Van de eerste dag dat een kleuter onze school binnenstapt tot de dag waarop wij de bijna-brugger weer uitzwaaien, wordt het kind spelenderwijs Engels aangeleerd.
Wekelijks staat het vak Engels minimaal 75 minuten op het programma. Bovendien worden er regelmatig andere vakken in het Engels gegeven of wordt een Engelstalige film met Engelse ondertiteling vertoond.
Anglia-school
Obs De Horn is aangesloten bij Anglia, een actief netwerk van scholen, colleges en universiteiten. Als Anglia-school besteden wij extra aandacht aan de Engelse taal. Leerlingen kunnen vanaf groep 5 op hun eigen niveau internationaal erkende Anglia-certificaten behalen. Kijk voor meer informatie op anglia.nl.
Books, musicals and speaking contests
De kinderen zijn altijd welkom in onze Engelse bibliotheek en kunnen deelnemen aan de jaarlijkse 'speaking and rhythm contest'.
Eens in de drie jaar staat een schoolbrede Engelstalige musical op het programma. De productie, waarin alle leerlingen meespelen, staat onder leiding van een professionele drama-docente en wordt opgevoerd in theater Calypso.
Uitwisselingsprogramma
Jaarlijks vindt er een uitwisselingsprogramma plaats met onze Duitse partnerschool in Sittensen. Leerlingen uit groep 6 en 7 kunnen hieraan deelnemen. De kinderen logeren bij gastgezinnen, waar Engels de voertaal is.
Spaans
In overleg met ouders en leerkracht kunnen leerlingen vanaf groep 5 ook Spaans leren. De lessen op De Horn worden verzorgd door een Spaanssprekende docent.
Voorsprong
Obs De Horn loopt al jarenlang voorop in tweetalig basisonderwijs. Daardoor stapt uw kind voorbereid en met een voorsprong de wereld in.