Wat is er de afgelopen weken hard gewerkt door de kinderen van groep 5-6. We moesten elkaar eerst beter  leren kennen en dat hebben we gedaan door veel samen te werken en van alles met elkaar te bespreken. Het is fijn om te zien dat de kinderen elkaar helpen en  rekening houden met elkaar. Meester Paul geeft elke twee weken een Rots en Water training en daar doen de kinderen ook allemaal enthousiast aan mee. Iedereen doet goed zijn best en we zijn trots.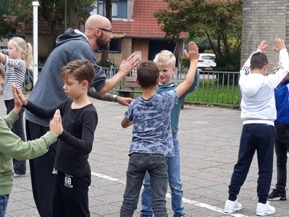 Bij taal en rekenen werken we op de coolbooks. We moesten even wennen aan de nieuwe rekenmethode maar zijn nu helemaal ingewerkt. Het gaat goed. We zijn een echte lees-klas. Veel kinderen duiken het liefst ieder vrij momentje in hun boek. En voor de voorronde van de voorleeswedstrijd hadden we maar liefst negen kandidaten. Floor heeft onze klas vertegenwoordigd op het podium en dat deed ze heel leuk.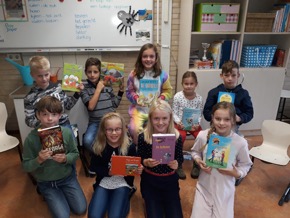 Het eerste thema van IPC hebben we alweer afgesloten. We hebben veel geleerd rondom het onderwerp "jonge ondernemers". We leerden over ruilhandel en het eerste muntgeld, we onderzochten munteenheden  over de hele wereld en we maakten een plattegrond van een bedrijventerrein. De IPC wand was weer helemaal gevuld en als afsluiting vertelden twee ouders over hun eigen bedrijf. Het volgende thema van IPC start over twee weken. Wat het onderwerp is, dat houden we nog even geheim …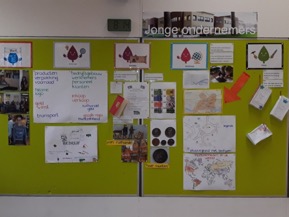 ---
---
Speaking and Rhythm Contest
Donderdag 26 september is de jaarlijkse "Speaking and Rhythm Contest" gehouden. Dit is een activiteit waarbij kinderen een voordracht houden in het Engels. Het is één van de activiteiten die we inzetten op de spreekvaardigheid te bevorderen en te laten horen.
In de onderbouw is de "Rhythm Contest" gehouden. Leerlingen van groep 1 tot en met 4 droegen in het Engels een versje, verhaaltje of liedje voor. Het was een verrassing hoe vrij de jongste deelnemers een liedje of versje op het podium deden. De jury was vol lof.
In de bovenbouw doen we de "Speaking Contest". Leerlingen van groep 5 t/m 8 droegen in het Engels een mini spreekbeurt voor over een zelfgekozen onderwerp.  Dit hadden zij thuis voorbereid. We zijn trots op de deelnemers en de jury die zich al zo goed in het Engels kunnen uitdrukken.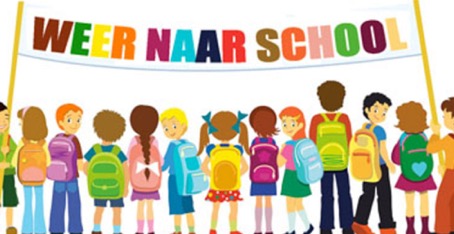 Leuk dat jullie een kijkje komen nemen op de groepspagina van groep 5-6. Groep 5-6 is een gezellige klas met 21 enthousiaste  kinderen. Juf Janet werkt op alle dagen, behalve op donderdag. Op donderdag staat juf Annemieke  voor de klas.
De kinderen hebben al veel geleerd vorig jaar. Toch zijn ze nog lang niet uitgeleerd. Het rekenen wordt uitgebreid met het optellen en aftrekken tot en met de 1000 in groep 5 en de kinderen van groep 6 leren rekenen onder elkaar. We blijven dit jaar de tafels herhalen. Want dat is handig om snel te kunnen rekenen en bij delen en vermenigvuldigen.
Alle kinderen kunnen lezen, maar  we gaan oefenen met moeilijkere boeken. Begrijpend lezen wordt steeds belangrijker. Wekelijks zullen we met elkaar een les van Nieuwsbegrip bestuderen. We maken de XL les op de computer en leren verschillende tekstsoorten te begrijpen. Elke dag besteden we  aandacht aan taal en spelling. Taal verwerken we op de coolbooks.
Dit jaar gaan we ook weer werken aan een aantal thema's van IPC. Daarbij zullen we zelf op zoek gaan naar informatie,  samenwerken, onderzoeken en presenteren. De IPC muur zal steeds voller worden met alle dingen die we geleerd hebben. Groep 5-6 doet ook weer mee  de Voel Jij Je Lekker Tour. We krijgen gastlessen over bewegen, voeding en een gezonde leefstijl.
Naast hard leren doen we natuurlijk nog veel meer in de klas. Zelfstandigheid wordt steeds belangrijker en we leren hoe we het werk moeten plannen. We leren veel nieuwe Engelse woorden met behulp van de methode Our Discovery Island en in mei gaan we mee doen aan het Anglia examen.
Groep 5-6  heeft op donderdag  gymnastiek in de gymzaal en op vrijdag gymmen we buiten.  Vier keer per week lopen we de Daily Mile.
Wil je weten wat wij verder allemaal doen in de klas? Kom dan af en toe een kijkje nemen op deze pagina. We gaan er een leuk jaar van maken met z'n allen!
Juf Janet en juf Annemieke