Rekenles groep 6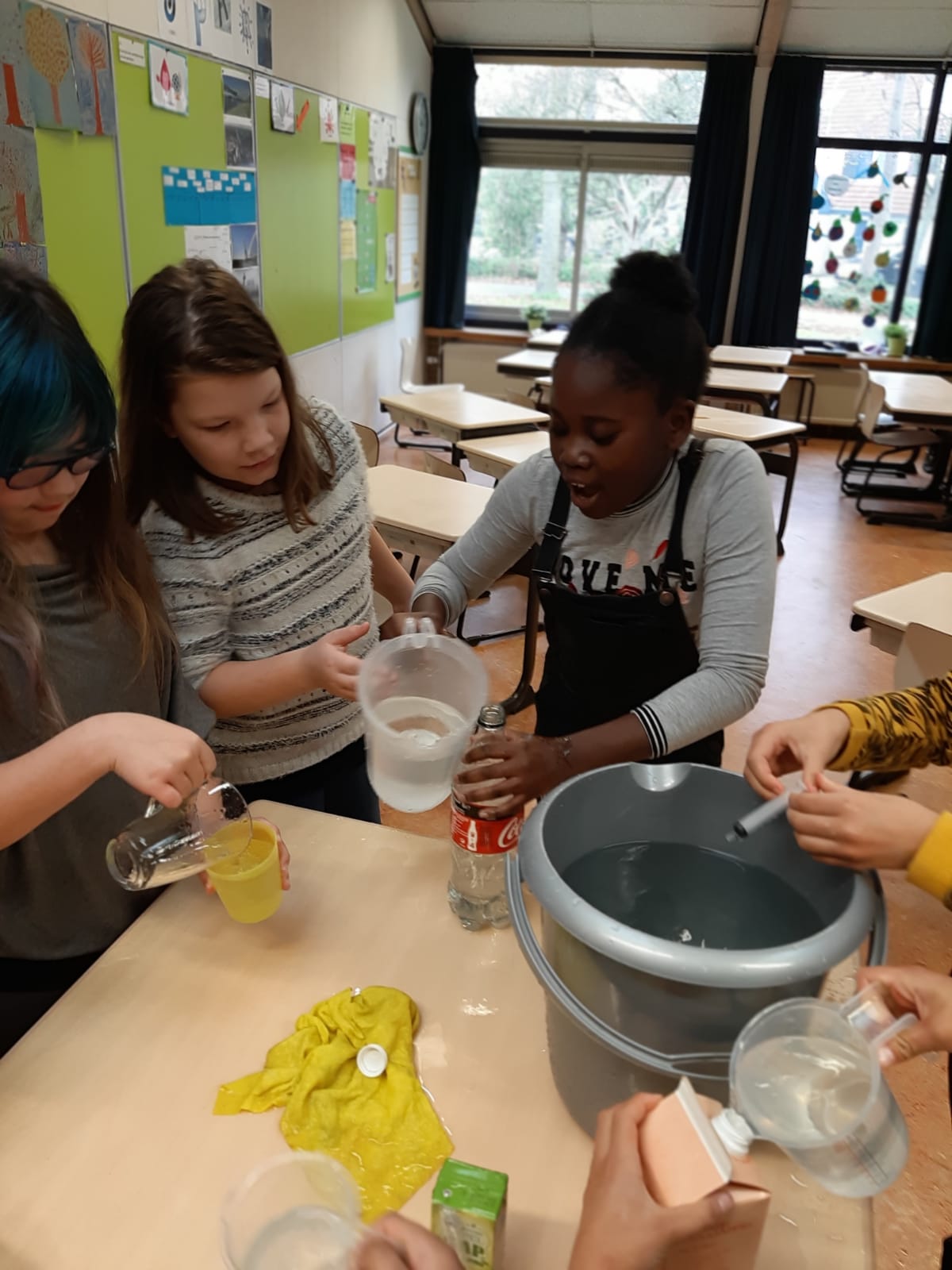 Het doel van de les was wegen met een weegschaal en inhouden bepalen met een maatbeker. Wat betekent cl en dl en hoeveel gaan er daarvan in een liter? Wanneer gebruik ik dl, cl of liter als maat? Hoeveel liters gaan er in een emmer? Hoeveel is een ml eigenlijk?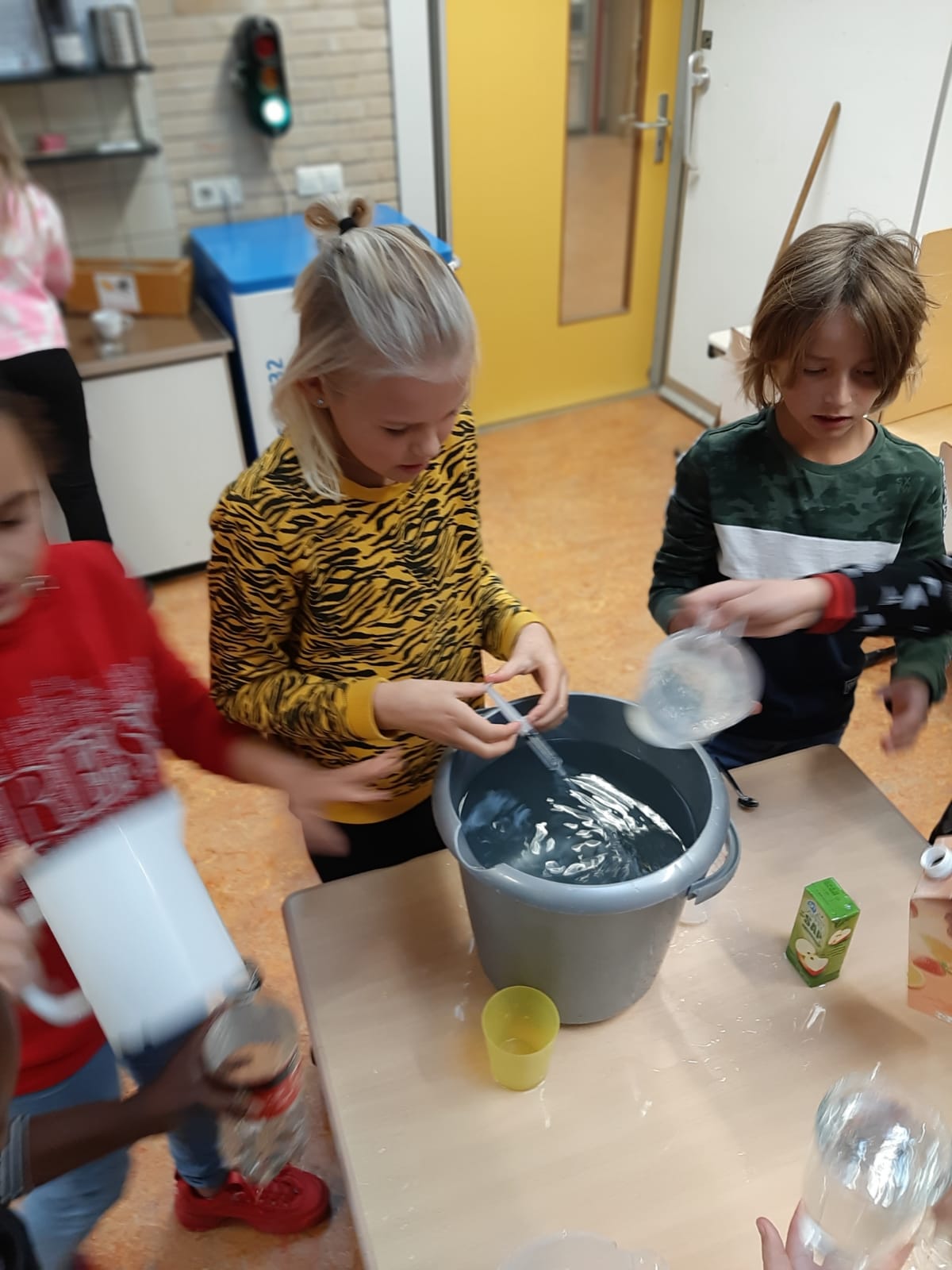 Ook hebben de kinderen producten gewogen en gecheckt of de gewichten kloppen met wat op de verpakking staat.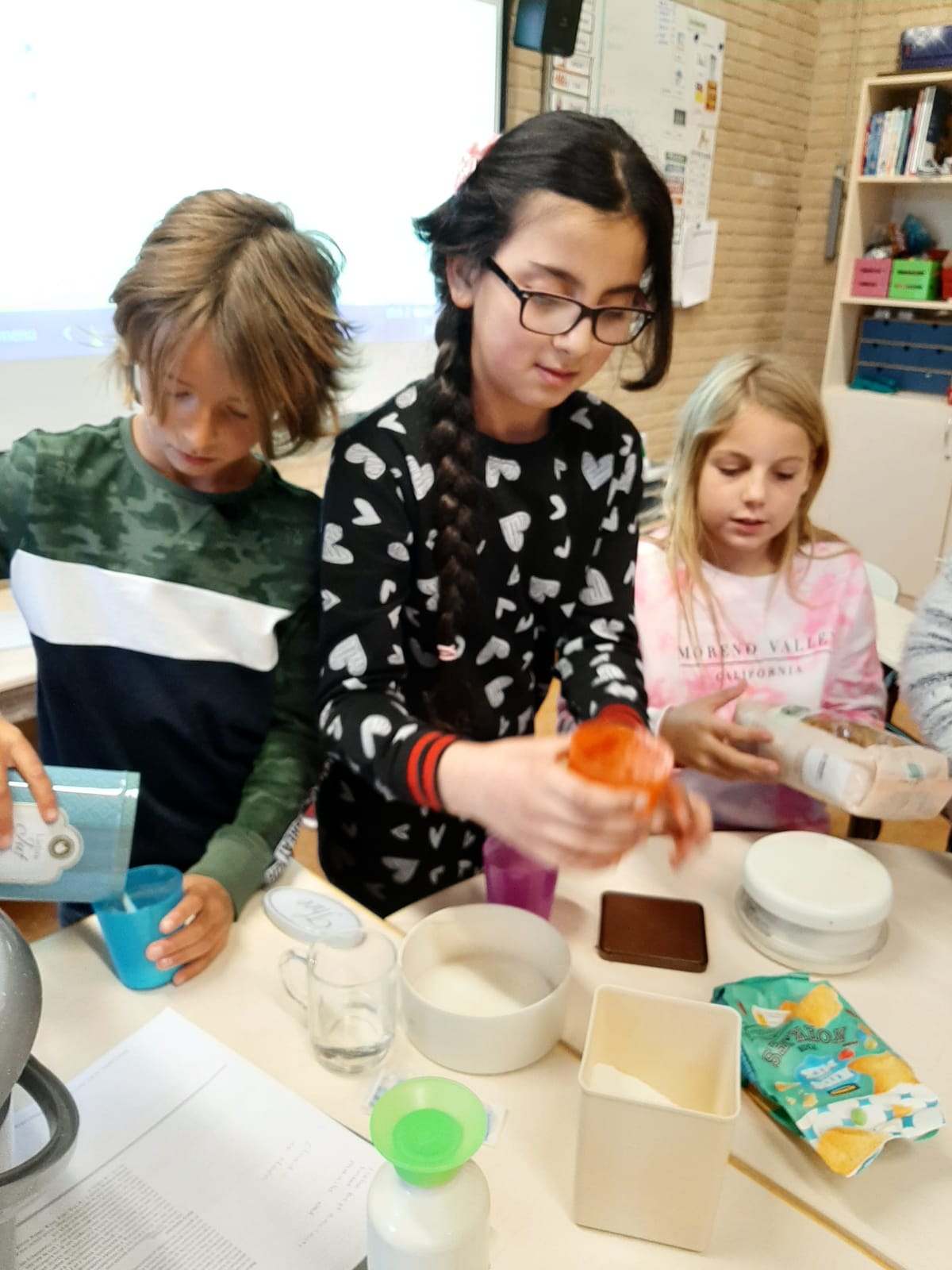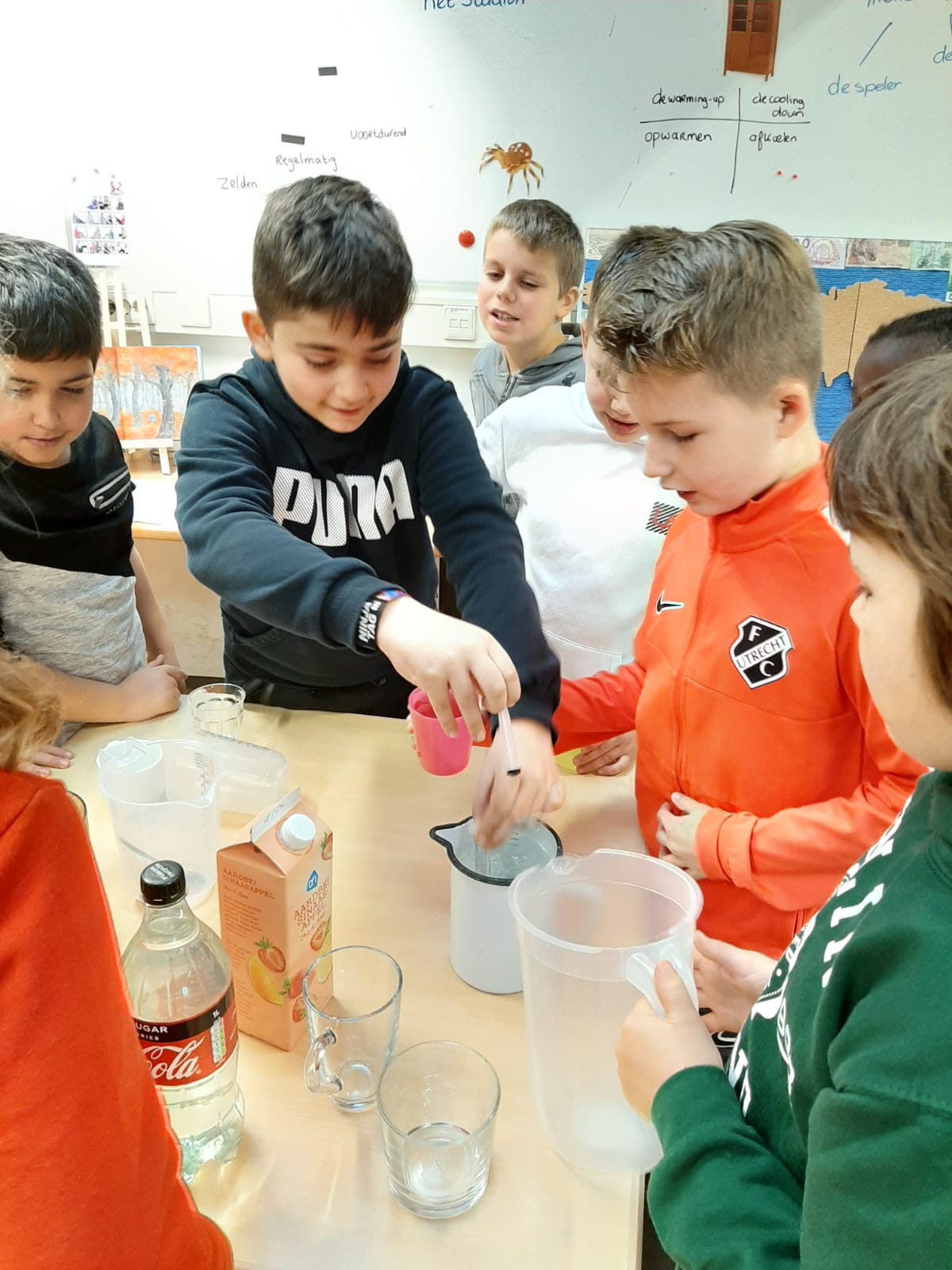 Wat en leuke les!
---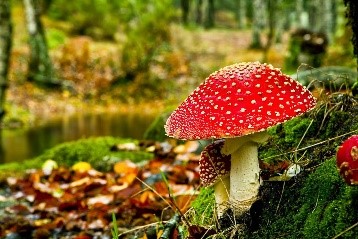 We zijn inmiddels alweer 7 weken bezig in groep 6. Gelukkig bestaat de start van een nieuw schooljaar nog veel uit herhalingen, dus de kinderen hebben alle tijd gehad om te wennen.  Rekenen doen we digitaal , dus dit is wel even wennen. De kinderen krijgen eerst instructie, moeten dan eerst een aantal oefeningen maken, dan Basistaken en vervolgens Eigen taken. Aan de hand van de Peiltaken zet het programma oefeningen op maat klaar voor ieder kind.
Iedere week komt meester Paul in onze groep voor "Rots en Watertraining". Alle kinderen doen enthousiast mee.
Ons eerste thema voor IPC was : "Jonge ondernemers". De kinderen hebben hun eigen verpakkingen ontworpen, plattegronden gemaakt en eigen geld. Een ouder heeft een gastles verzorgd om ons te vertellen over het opzetten en hebben van een eigen bedrijf. Het is leuk als kinderen met spullen van thuis naar school komen zoals buitenlands geld of geld van vroeger. We hebben zelfs een prachtige gefiguurzaagde wereldkaart waarop de kinderen geld konden plakken, deze kaart is gemaakt door de ouders van een leerling.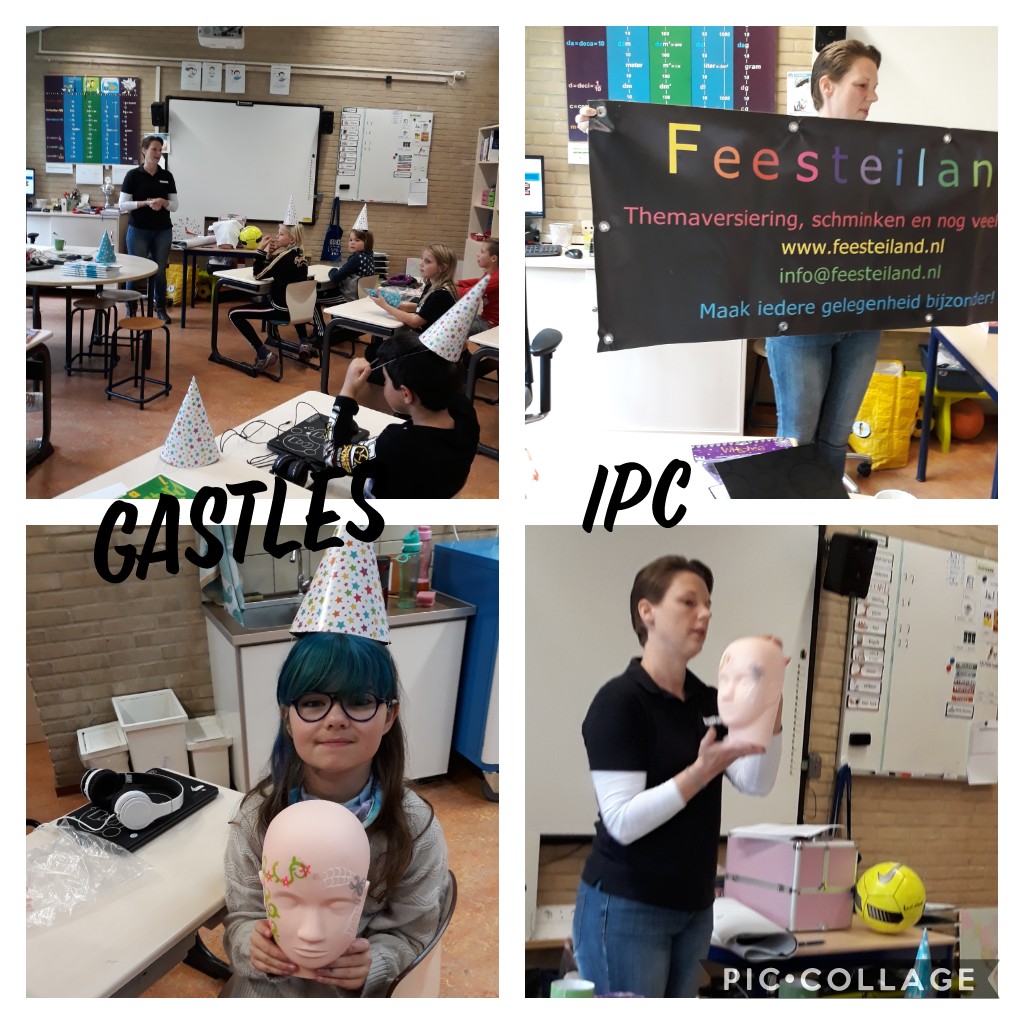 Na de herfstvakantie gaan we twee weken aan de slag met het thema "Amsterdams-Rijnkanaal". Langs het Amsterdams-Rijnkanaal staan een aantal kunstwerken, de maker van deze kunstwerken komt bij ons op school en als voorproefje hebben we al een gastles van Rijkswaterstaat gehad.
Omdat we gezonde school zijn, doen we bijna ieder dag de Daily Mile en gaan we binnenkort starten met voedingslessen en beweegtussendoortjes.
---
---
Speaking and Rhythm Contest
Donderdag 26 september is de jaarlijkse "Speaking and Rhythm Contest" gehouden. Dit is een activiteit waarbij kinderen een voordracht houden in het Engels. Het is één van de activiteiten die we inzetten op de spreekvaardigheid te bevorderen en te laten horen.
In de onderbouw is de "Rhythm Contest" gehouden. Leerlingen van groep 1 tot en met 4 droegen in het Engels een versje, verhaaltje of liedje voor. Het was een verrassing hoe vrij de jongste deelnemers een liedje of versje op het podium deden. De jury was vol lof.
In de bovenbouw doen we de "Speaking Contest". Leerlingen van groep 5 t/m 8 droegen in het Engels een mini spreekbeurt voor over een zelfgekozen onderwerp.  Dit hadden zij thuis voorbereid. We zijn trots op de deelnemers en de jury die zich al zo goed in het Engels kunnen uitdrukken. 
    Groep 6A
Groep 6a heeft komend jaar 2 leerkrachten: Yvonne Eeldert en Hannie Mocking. Wij werken 5 dagen achter elkaar: van donderdag t/m woensdag, op donderdag vindt de wisseling plaats. De volgende leerkracht werkt dan weer t/m woensdag. Onze groep bestaat uit 21 leerlingen: 11 jongens en 10 meisjes.
Iedere ochtend starten wij met een 5 woorden dictee. In groep 6 werken de kinderen bij taal en rekenen op een Chrome book, spelling maken we in een schrift.  Het voordeel van de Chrome books is dat de kinderen tijdens hun werk bij foutjes al meteen feed back krijgen.  Rekenen heeft dit jaar een andere opzet, zowel voor de leerkrachten als voor de leerlingen is het nieuw. De kinderen kunnen zelf hun groei bij houden en de oefeningen worden op niveau aangeboden (adaptief werken). Het programma houdt bij welke oefeningen een kind nog moeilijk vindt en past daar de lesstof op aan in de eigen taken. Vermenigvuldigen en delen wordt uitgebreid, dus de tafels oefenen blijft heel belangrijk. Deze zijn namelijk ook heel handig als we met breuken beginnen. Technisch lezen doen we 3x per week en begrijpend lezen 1x per week. De kinderen kunnen thuis oefenen op Nieuwsbegrip XL op de computer. Engels staat 3x per week op het rooster, maar soms starten we de dag ook in het Engels met bijvoorbeeld een kleine conversatie over het weer, wat ze gegeten hebben etc.  Ook doen we dit schooljaar weer mee met het Anglia examen. Afgelopen week hebben de kinderen hun diploma ontvangen van vorig schooljaar.
3x in de week werken we met IPC. Dit jaar komen er 4 thema's aan bod. Het eerste Thema is "Jonge ondernemers". Bij ieder Thema komen diverse vakken aan bod, leren de kinderen samenwerken, onderzoeken en presenteren.
Vanaf de herfstvakantie krijgen de kinderen huiswerk 1x per week. Hierbij spelen zelfstandigheid, verantwoordelijkheid en plannen een grote rol.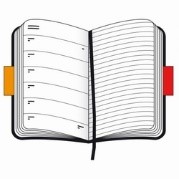 Groep 6a gymt op vrijdag in de gymzaal op het "Het Anker". We gaan hier met de fiets naar toe.

Korte berichtjes zetten we regelmatig op de klasboekapp, vragen en info op de mail.
Kortom: heel veel op het programma! We gaan er een mooi jaar van maken.
De eerste 2 weken zitten er al weer op, we hebben elkaar leren kennen d.m.v. spelletjes.
Rots en Water hebben we dit jaar om de twee weken.
Mocht u ons willen spreken, dan is dat vrijwel altijd na schooltijd mogelijk.
Juf Yvonne en juf Hannie